Coral reefs shall disappear by 2050.
Act now to change the future!
We need to restore the coral reefs now
Coral reefs are the most important ecosystems underwater.
They cover less than 1% of our oceans, yet, they are home to 25% of the marine biodiversity.
Currently, 70% of the world's coral reefs are highly threatened and all could disappear by 2050.
Donate to make a difference
Fund our coral restoration activities and
secure a healthy ocean for the next generations.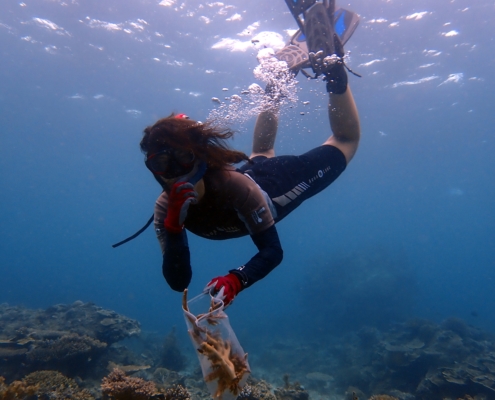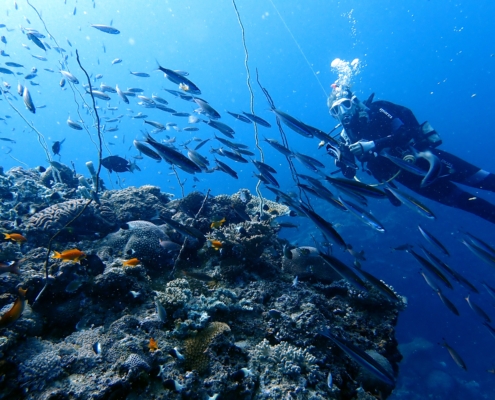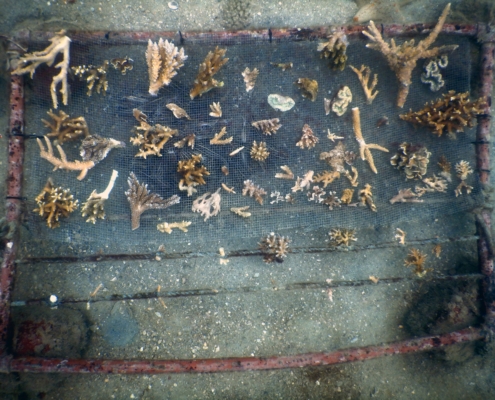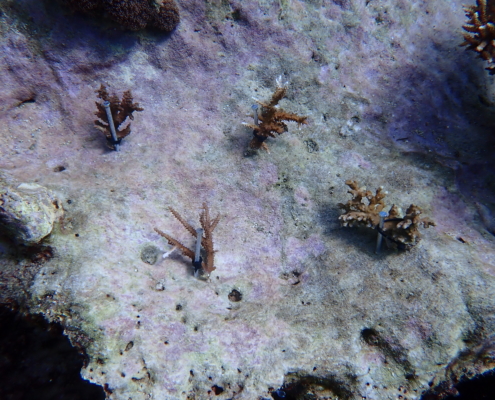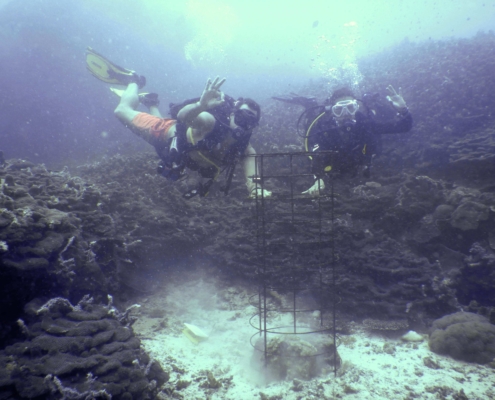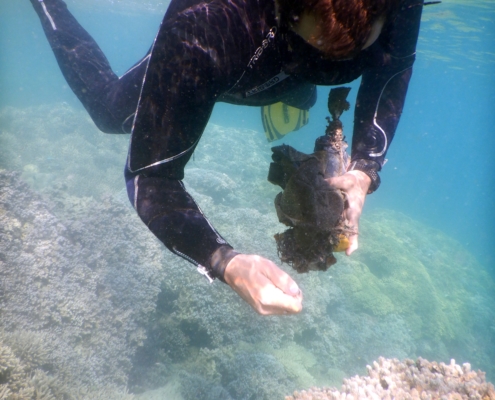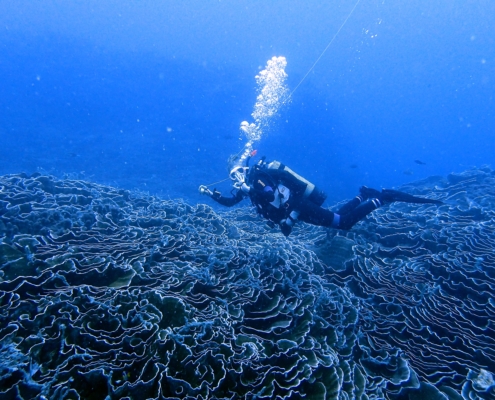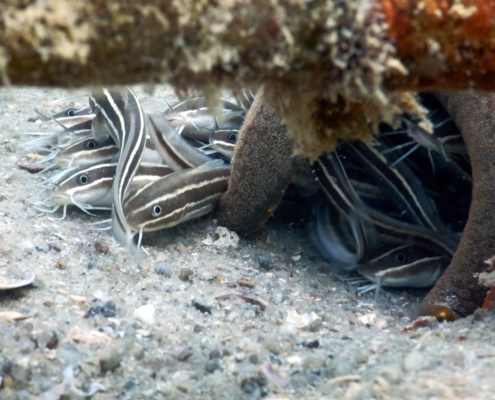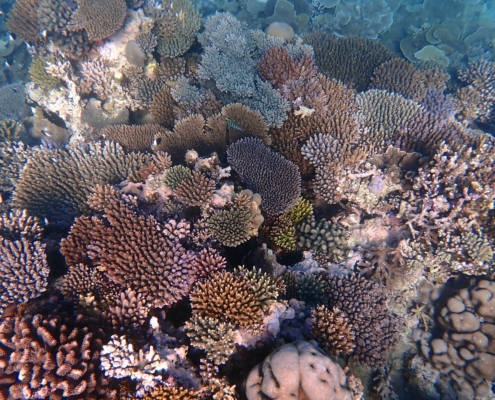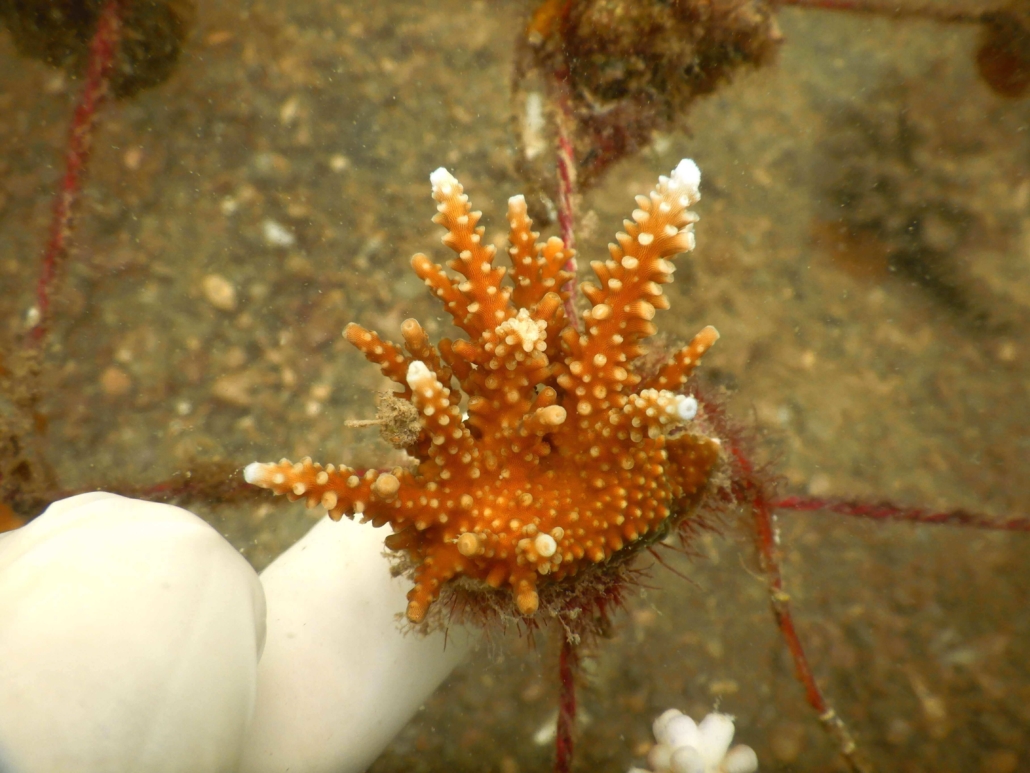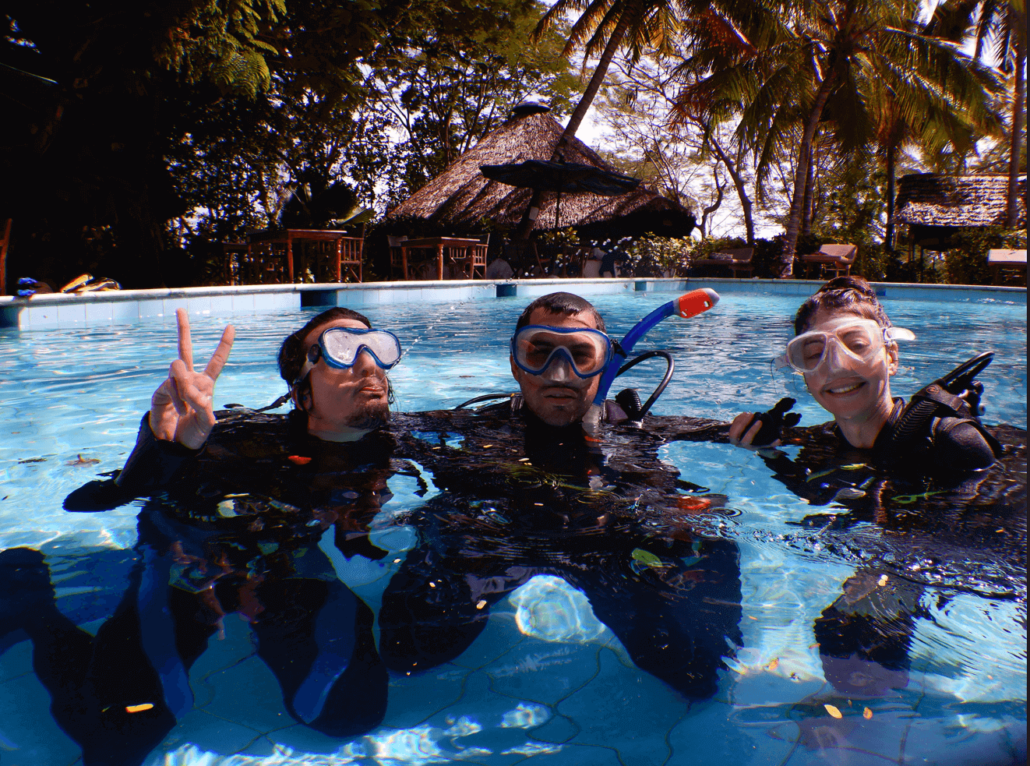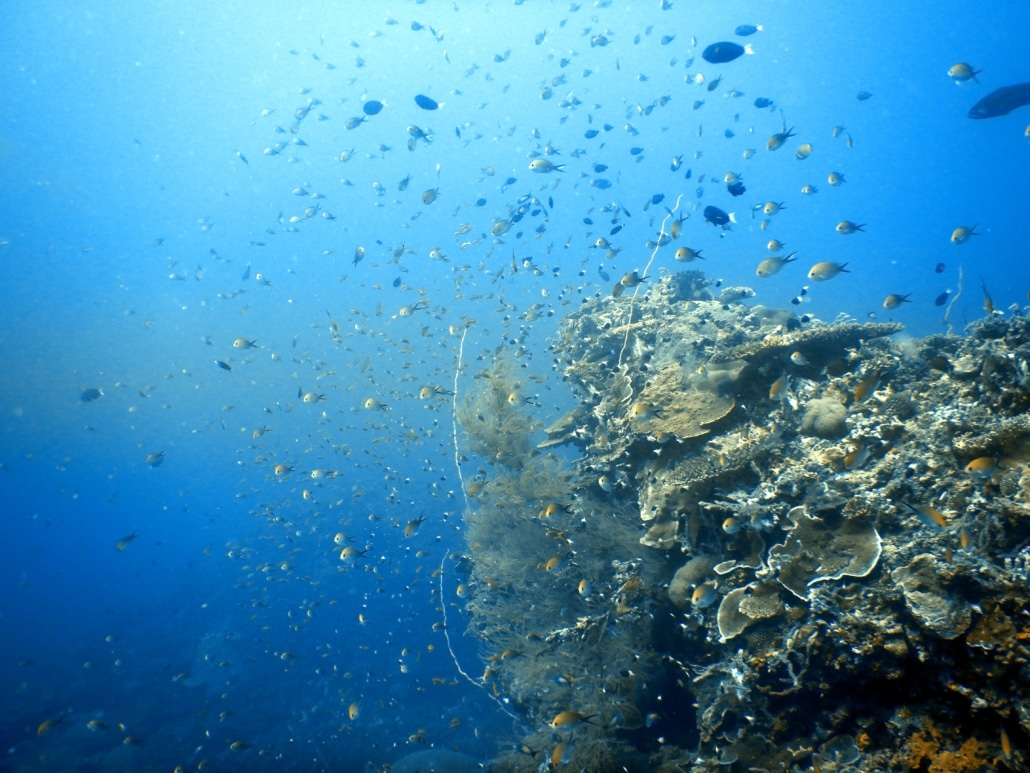 Volunteer to restore coral reefs
Join us on the premises to participate in our coral restoration project
and preserve marine biodiversity.
Coral reefs are home to 25% of marine species, provide coastal protection for communities, and support local economies.
Unfortunately, coral reefs are severely threatened by climate change and rapidly worsening environmental conditions.
A world without coral reefs is a world without fish.
In Mikindani Mtwara, the situation is urgent: all coastal villages rely up to 100% on the ocean.
Without coral reefs, their survival is strongly endangered.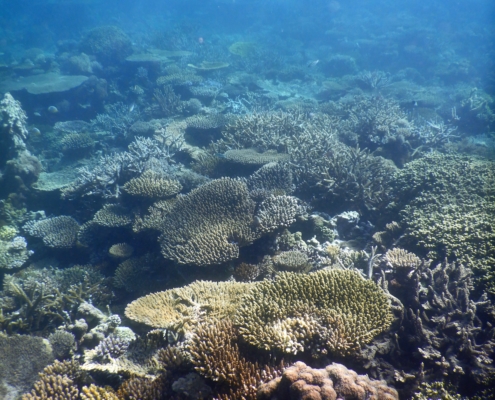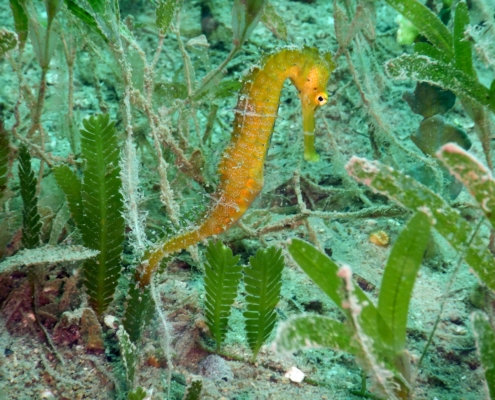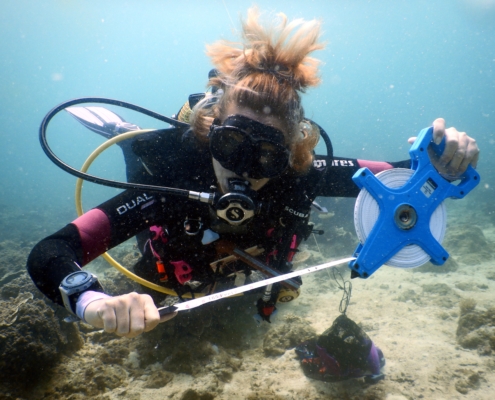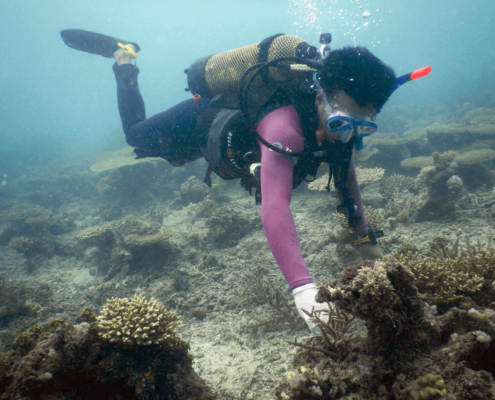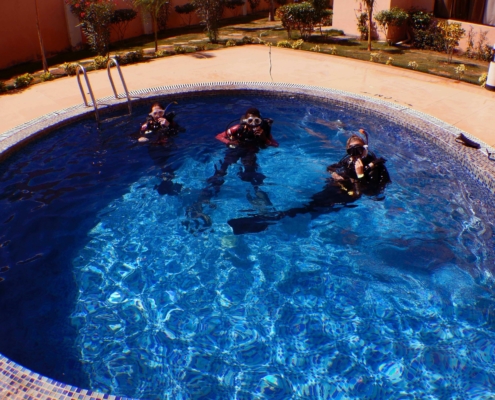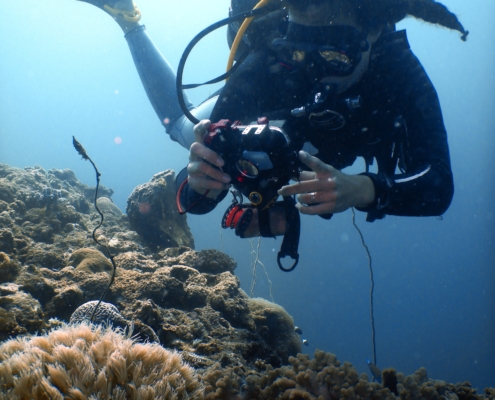 Volunteers are involved in all activities performed
to restore the coral reefs.
Coral restoration is specific to each area.
All brains on deck are necessary to ensure the best methods are applied according to the local conditions.
Our volunteers help to maintain and expand the project in the ocean and on land on top of their participation in our routine tasks.
Check us out on Instagram @CoralsOfMikindani.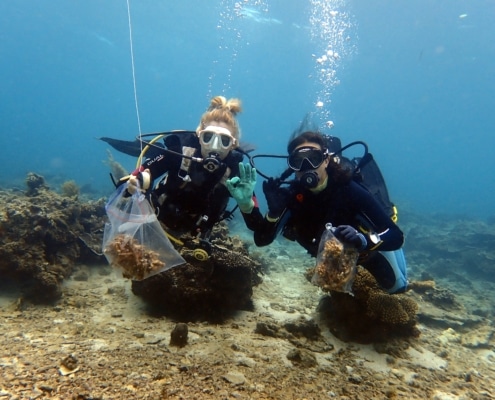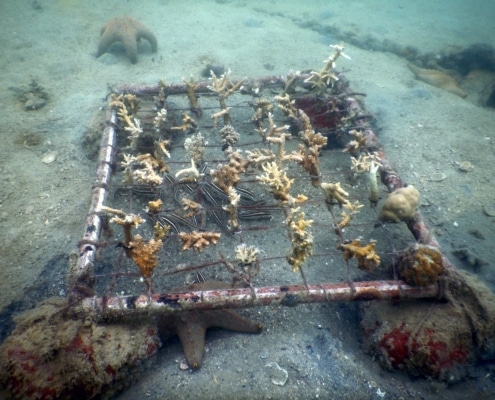 Volunteer schedule
On your first day, we introduce you to your new environment: this is orientation day. We show you the area and the points of interest as much as discuss your schedule and the on-going activities.
Our program adapts to all our volunteers.
If you are not a diver yet, we start by teaching you the Open Water Diver Course – 1st Level. The course is spread over 5 days. Once completed, you join the program.
If you are a certified diver, you directly join the coral restoration program.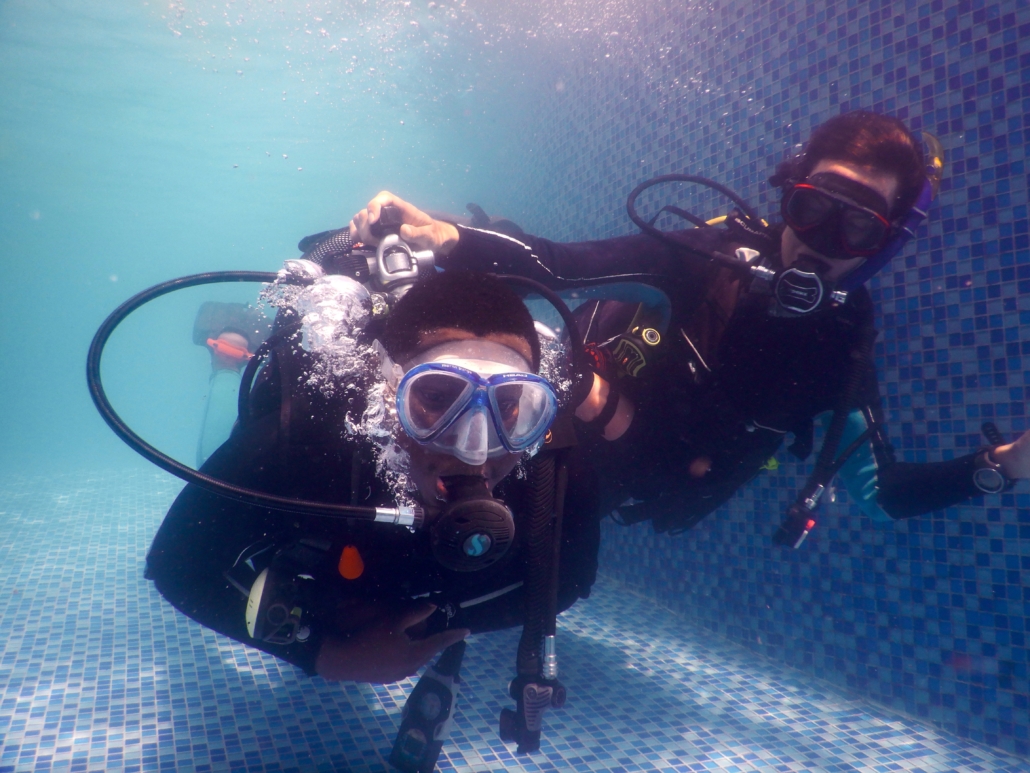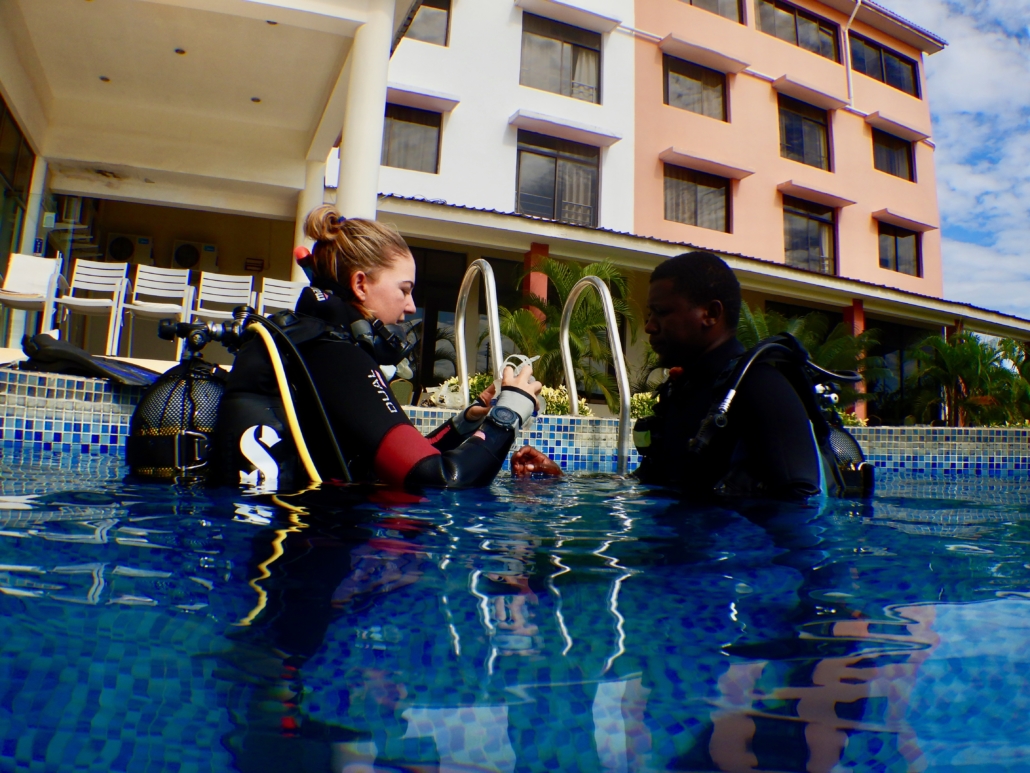 Our program takes place 5 days per week, from 8am to 2pm (rarely later depending on the objective of the day).
The schedule is set at the beginning of each week according to the needs at the moment.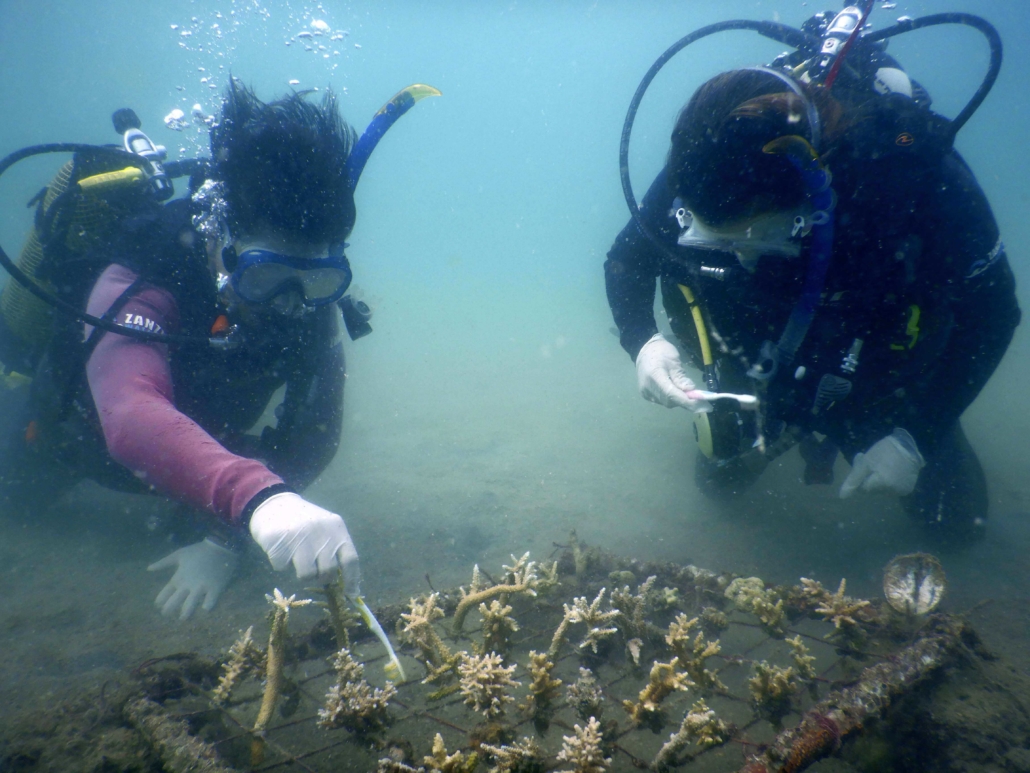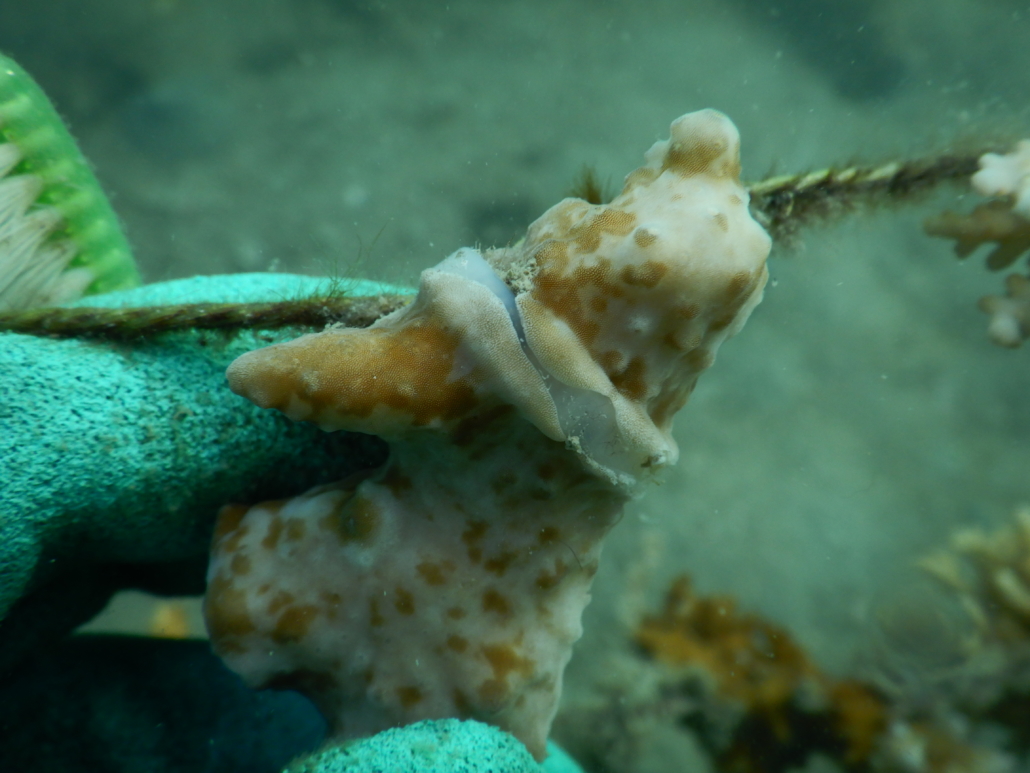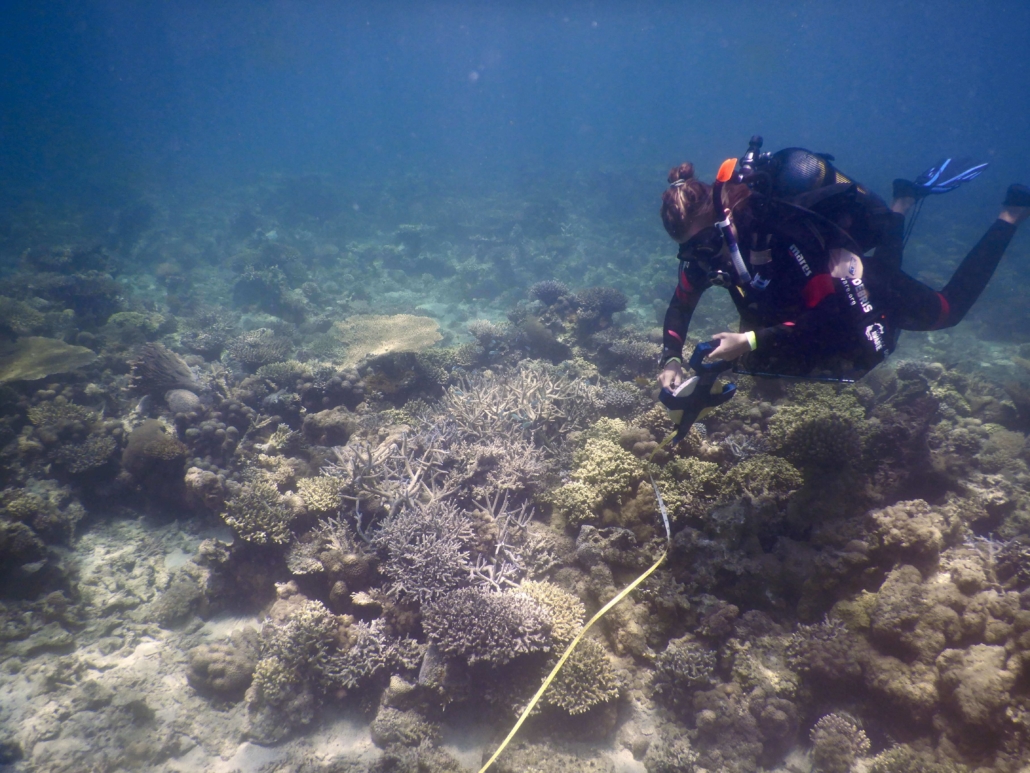 Over these 5 days, 3 days are dedicated to ocean activities.
These "Wet days", either snorkeling or diving, are dedicated to activities such as cleaning and documenting our nurseries, collecting and planting corals, maintaining our local reefs, installing new structures underwater, surveying our reefs, underwater clean-ups etc.
The remaining 2 days per week are dedicated to land activities.
These "Dry days" are dedicated to activities such as documenting and raising awareness on coral reefs, building new underwater structures, participating in conservation classes with the local schools, running beach clean-ups, helping with the social media, etc.
Once a week, we also run a "Marine conservation day".
These days are dedicated to expanding the knowledge of our volunteers about marine conservation in general: over fishing, sharks, ocean pollution, etc.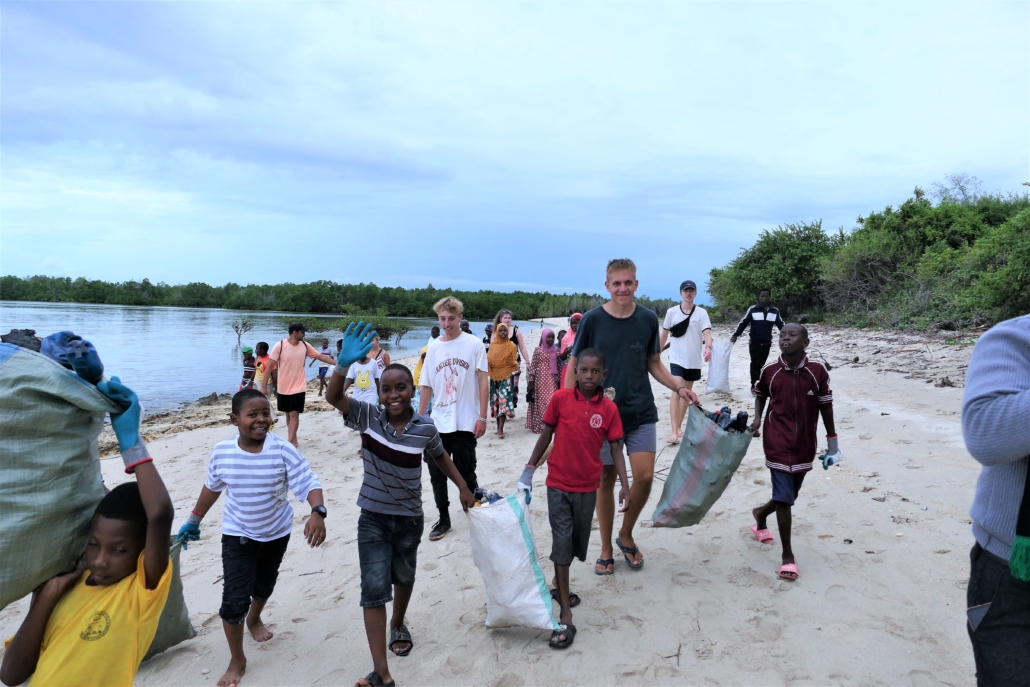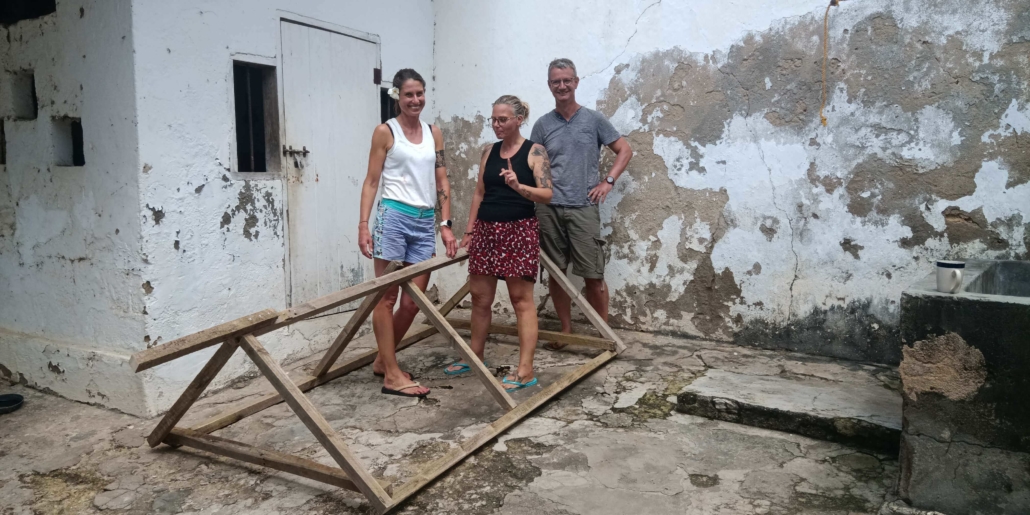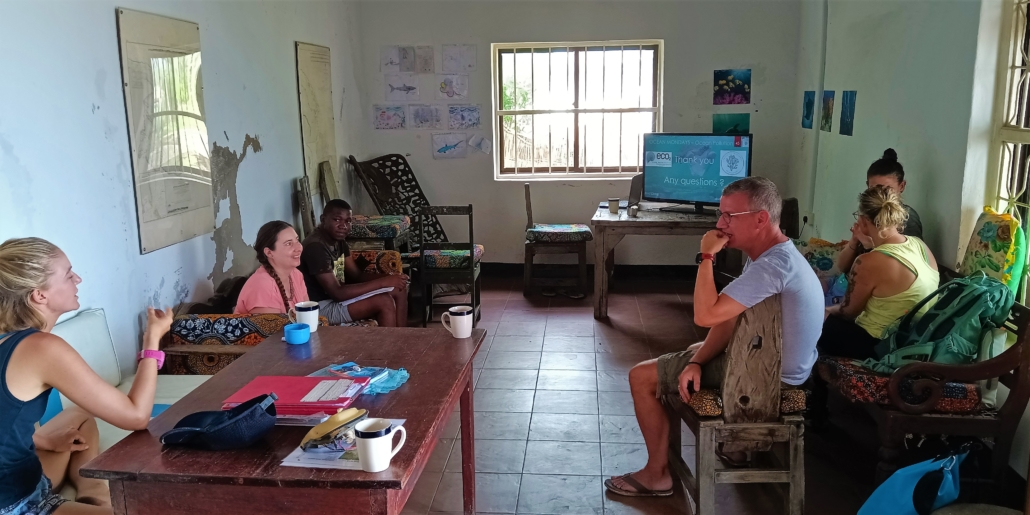 On top of the regular restoration program, we are closely working with coral restoration specialists based in UK called "Reef Guru". They allow us to teach and certify our volunteers in Coral Restoration. This certification is available for free for our volunteers staying 5 weeks or more. Other volunteers can be certified at an additional cost.
Living
We take great care of you throughout your stay in Tanzania.
Orientation
Your first day with us is dedicated to make you familiar with your new environment so you feel immediately comfortable.
Over a few hours, we visit the area, Mikindani village and Mtwara town, showing you the different point of interests:
museums, markets, beaches, restaurants, extra activities, etc.
We discuss the organisation of your stay, go over the schedule and the activities, and answer any of your questions.
Finally, we introduce you to our staff and our neighbours to create your first bond with our local community.
Accommodation
We offer our volunteers 2 different kinds of rooms:
– Guesthouse rooms: basic rooms with shared bathroom
– Terrace rooms: bigger rooms with private bathroom and terrace.
Each volunteer has its own room. All our rooms are furnished with a double bed, a big mosquito net, a ceiling fan (inside the net), a bedside table, and a cupboard.
Your accommodation includes one laundry per week and drinkable water available at our fountain: bring your reusable bottle 😉
Meals
We provide our volunteers with half-board services i.e. breakfast and dinner.
On request and extra costs, we can also provide lunch or pack lunch.
Breakfast is available between 7am and 10am at our restaurant. However, be aware that activities start at 8am
so 10am breakfasts should only happen on days off! 😉
Dinner is served between 6pm and 8pm.
Meals are mixed between local and international food. Mainly vegetarian, you are offered meat/fish few times a week.
We are happy to fit particular diets (vegan, gluten free, etc) as long as you give us notice beforehand 😊
Free time
Your free time is yours: you can do anything you feel like.
Mikindani is really safe and you can freely walk around, make way for the chicken, goats and cows crossing the streets, walk around the conservation area or discover the village and check out the mamas sewing mats. The local community is very welcoming and a smile is always the first step to a great cultural exchange.
If you are more into sport activities, we can recommend areas/beaches to go for a swim, a walk, or even a run. You can rent some kayaks or bikes to reach further places, go snorkeling / scuba diving or go sailing on a local dhow, the traditional Tanzanian boat.
Of course, we are here to help and recommend places and activities.
Reaching Mikindani Mtwara
Your international flight should land in Dar-Es-Salaam, the main town of Tanzania (Nope, the capital is Dodoma! 😉).
You are on your own until you reach us down south. However, before your arrival in Dar-Es-Salaam, we provide you with some advice on where to stay, where to go, what to do, and how to get things done.
To reach Mikindani Mtwara, you have the choice between air or land trips. We can assist you to book any of your tickets.
By air, Air Tanzania and Precision Air are the two airlines flying from Dar-Es-Salaam to Mtwara. You can check their schedule and even book your tickets online… or we can assist you with it too! As soon as you are done, send us your flight details so we can get everything ready for your arrival. The flight lasts approximately an hour… and you will have your first Tanzanian cashew snack: the best in the world! 😊
By land, there are many local bus companies that are travelling down south. Our preference is "Buti La Zungu" which offers daily buses from 6am to 2pm. To book a ticket, you can try online but we would rather assist you with it. Your trip lasts between 8 and 10 hours. Yes, this is longer than a flight, but also more affordable: it depends on your budget! Buses are safe, in good conditions and give you the opportunity to share a real local experience. Tanzanians are very welcoming and you will probably make a few friends during your trip. Also, you will discover many different street foods offered during your trip.
Requirements
Volunteers from 16 years old or over are welcome. Parents/Guardian's signatures and approval are required for minors.
English spoken and written is mandatory. Swimming capabilities too (no need to be Michael Phelps 😉)
The minimum stay is 2 weeks. There is no maximum stay.
We recommend a 4+ weeks stay to start witnessing some impacts. The longer the stay, the more the evolution of the reef you see.